Wallpaper is back in style! I am so excited about this trend! Don't get me wrong. I think it was a necessity that the lovely 1980s florals found their way out of our homes. (I remember my mother's wallpaper, curtains, and couch that were all florals in one room. Oh my!) But the newest wallpapers that are so popular and fun to decorate with just give the room a pop of color or design that draws the eye in. It makes pulling the room together so easy. So, of course, Greyhound Estate is going to feature some fun, whimsical, and gorgeous wallpapers. Let me tell you about a few that we are considering.
Big leaves are really popular. They look like a floral pattern without actually being a floral. This one is from Anthropologie. To find it, click here. This gorgeous paper adds color and drama to the space. We are thinking about putting these big leaves in a half bathroom. While an entire room of this big leafy print might be overwhelming to some, we think a small space is perfect for this.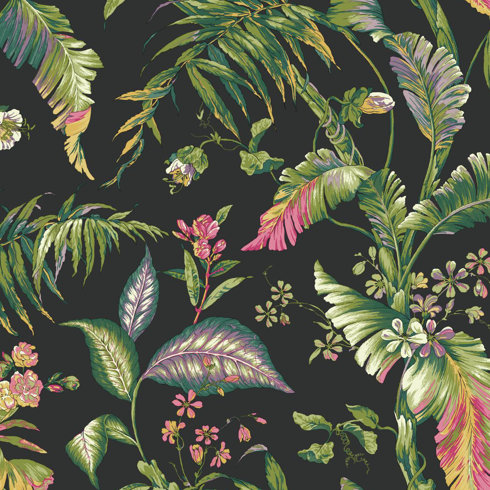 While the lawyer, the accountant, and the two builders were discussing design options of the house, I suggested in jest that we use greyhound wallpaper in one of the half bathrooms. Instead of laughing at me, they thought it was a great idea. (If you don't know the story about the lawyer, the accountant, and two builders, see the post here.) Did you know that there are hundreds of greyhound wallpapers to choose from? I had no idea. Our designer has chosen this one called Poets and Philosophers from spoonflower.com:
Another fun place to use wallpaper is the utility room. Why not put in a colorful happy print that you might not use elsewhere? No one will see it but you, so put something really fun on the wall to look at while you're folding the laundry. We're thinking maybe something like this:
Wallpaper can add a punch of drama to a space. It usually becomes the focal point of a room. I think the fact that, in general, we haven't used wallpaper much over the last 30 years adds to the punch it now provides. It's new again and our eyes are drawn to it. We think wallpaper on the ceiling is extra dramatic because it's unexpected. Not only is it unexpected on the ceiling, it's also unexpected in the closet. So, of course, that's where we intend to put it. We're thinking something similar to this French Linen Maize Grey by spoonflower.com for the ceiling of the master suite closet:
What do you think? We want to hear your thoughts on wallpaper. Have you recently used wallpaper in a remodeling project? Tell us about it. We love to hear new ideas.
Interested in making Greyhound Estate your home? Click
here
for our contact information. We can't wait to hear from you.